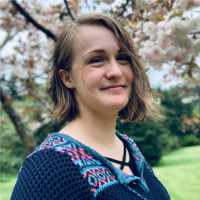 She cares about using her skills to help people who are going through the toughest challenges in life. She strives to tell the untold stories, to bring to attention things that are often overlooked. And she loves the amazing privilege of bringing a smile to someone's face, because she's created something beautiful for them. 
Jessica is a video editor and graphic artist based in Indianapolis. She studied Art & Design at Western Oregon University, earning her bachelor's degree with honors. She is continually developing her diverse skills in video production, animation, graphic design, and the Spanish language. Jessica specializes in educational videos and promotions for small businesses. She loves to create memorable experiences through vivid graphics. 
She has worked with the Oregon Department of Energy on educational resources, with AIGA Portland on digital advertising, and with Western Oregon University Athletics on TV commercials and highlight reels. Also, she is quite famous for the Blizzard creations she made during her stint at Dairy Queen.
Jessica is energized by collaborative atmospheres, where she does her best work. She values suggestions and feedback from others, which she has seen are instrumental in developing a successful idea. She thrives as a supportive member of a lean (but effective) team. 
She uses high contrast and colorful visuals to draw in a viewer, while creating lasting interest through powerful storytelling and whimsical humor. Leaving someone with a challenging thought that sticks with them is her ultimate goal. 
infinimorph /infene morf/ 


noun:

 one who is always creating, continually revising, and forever curious.